Beemet manufactures a wide array of 3 ½ and 4 ½ digit Digital Panel Meters. Our meters comprise of high quality components and come with bright red 7-segment LED displays. We deploy them through stringent tests and maintain strict quality control throughout the entire manufacturing process. Our Digital Panel Meters and modules can be scaled with a range from 10A – 160A and 200A – 1600A using a re-scalable DIP switch.
Check our blogs on Digital Panel Meters: All You Need To Know About Digital Panel Meters
• 3 1/2 Digit – Dual Slop A/D Conversion.
• Super bright LED display for crystal clear long distance day light viewing.
• Built in Transducer.
• Compact size.
| | |
| --- | --- |
| Operating Method | Dual Slope A/D Conversion |
| Input Bias Current | 10pA Typical |
| Conversion Rate | 2.5/sec |
| Display | 14.2mm LED RED − STANDARD |
| Polarity Indication | ″ ′ ″ is indicated |
| Operating Temperature | 0-50 c (RH < 70% ) |
| Power Supply | 110V/240V AC (Any One) |
| Over Range Indication | ″ 1 ″ at MSD |
| External Start and Hold | Optional |
MEASURING RANGE
INPUT IMPEDENDENCE
RESOLUTION
ACCURACY
MAX. INPUT VOLT/CURRENT
DC Volts
±19.99 mV
± 199.9 mV
± 1.999 V
± 19.99 V
±199.9 V
± 750 V
100 MΩ
100 MΩ
100 MΩ
10 MΩ
10 MΩ
10 MΩ
10 μV
100 μV
1 mV
10 mV
100 mV
1 V
0.2% ± 5dgt
0.2% ± 2dgt
0.2% ± 2dgt
0.2% ± 2dgt
0.2% ± 2dgt
0.5% ± 3dgt
± 20 V
± 20 V
± 20 V
± 200 V
± 500 V
± 750 V
DC Current
± 199.9 μA
± 1.999 mA
± 19.99 mA
± 199.9 mA
± 1.999 A
± 5.OO A
± 19.99 A
1KΩ
100 Ω
10 Ω
1 Ω
0.1 Ω
0.01 Ω
0.01 Ω
100 nA
1 μA
10 μA
100 μA
1 mA
10 mA
10 mA
0.2% ± 2dgt
0.2% ± 2dgt
0.2% ± 2dgt
0.2% ± 2dgt
0.5% ± 2dgt
0.5% ± 2dgt
1.0% ± 5dgt
± 10 mA
± 50 mA
± 150 mA
± 500 mA
± 3 A
± 7 A
± 22 A
AC Voltage
199.9 mV
1.999 V
19.99 V
199.9 V
750.0 V

10 MΩ
10 MΩ
10 MΩ
10 MΩ
10 MΩ
100 μV
1 mV
10 mV
100 mV
1 V
0.5% ± 5dgt
0.5% ± 5dgt
0.5% ± 5dgt
0.5% ± 5dgt
1.0% ± 5dgt
20 V
20 V
200 V
500 V
750 V
AC Current
199.9 μA
1.999 mA
19.99 mA
199.9 mA
1.999 A
5.00 A
19.99 A
1 KΩ
100 Ω
10 Ω
1 Ω
0.1 Ω
0.01 Ω
0.01 Ω
100 nA
1 μA
10 μA
100 μA
1 mA
10 mA
10 mA
0.5% ± 5dgt
0.5% ± 5dgt
0.5% ± 5dgt
0.5% ± 5dgt
0.5% ± 5dgt
0.5% ± 5dgt
1.0% ± 5dgt
10 mA
50 mA
150 mA
500 mA
3 A
7 A
22 A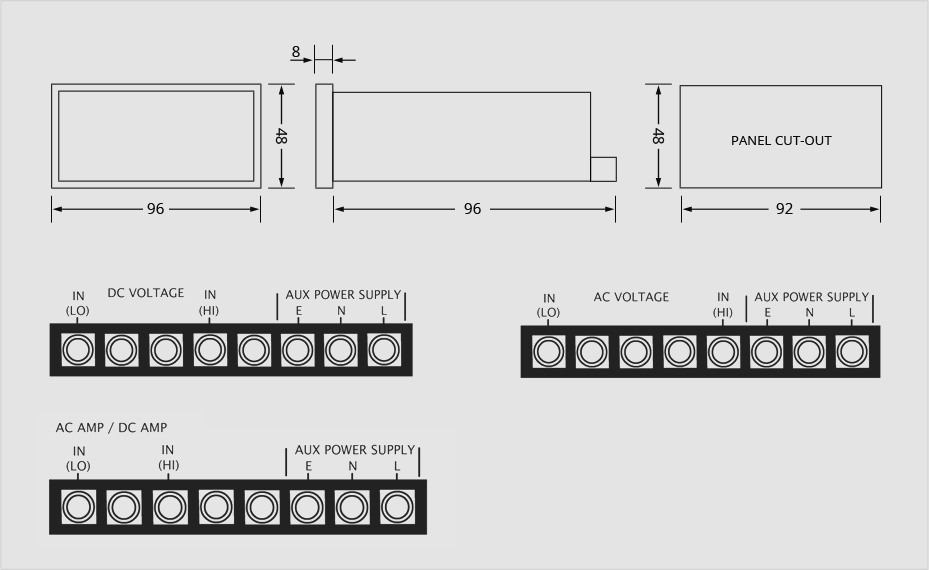 Model
Dimensions (mm)
Panel Cutout
A
B
C
D
BD-72
72
66
18
38
67x67
BD-96
96
90
30
40
91x91